Sunny Beach Weddings is a full service wedding planning company specializing in planning and coordinating unique and beautiful beach weddings in Ocean City, Assateague Island, and the Delaware beaches. Since 2008, our mission has been to serve and create memorable events that our couples will treasure for a lifetime. Our team is a small, tight-knit group of vendors who love to work together in order to bring your dream wedding to life. We truly love what we do and our passion for planning once-in-a-lifetime weddings runs deep. Our number one goal is to ensure your wedding day is as magical as you hoped it to be. We're honored to have been a part of so many beautiful love stories over the years and would love nothing more than to be a part of yours.
Your wedding day will be one of the most joyful days of your life, but all the planning that goes into it can be stressful. With endless to-do lists and decisions to make, the planning process can quickly go from exciting to overwhelming. That's where we come in. At Sunny Beach Weddings, we take all the stress away from the planning process and give you the helping hands you need to create the beach wedding you've always dreamt of. From our caring officiants to our talented photographers, we'll help coordinate every aspect of your ceremony to ensure your special day is one you'll cherish forever.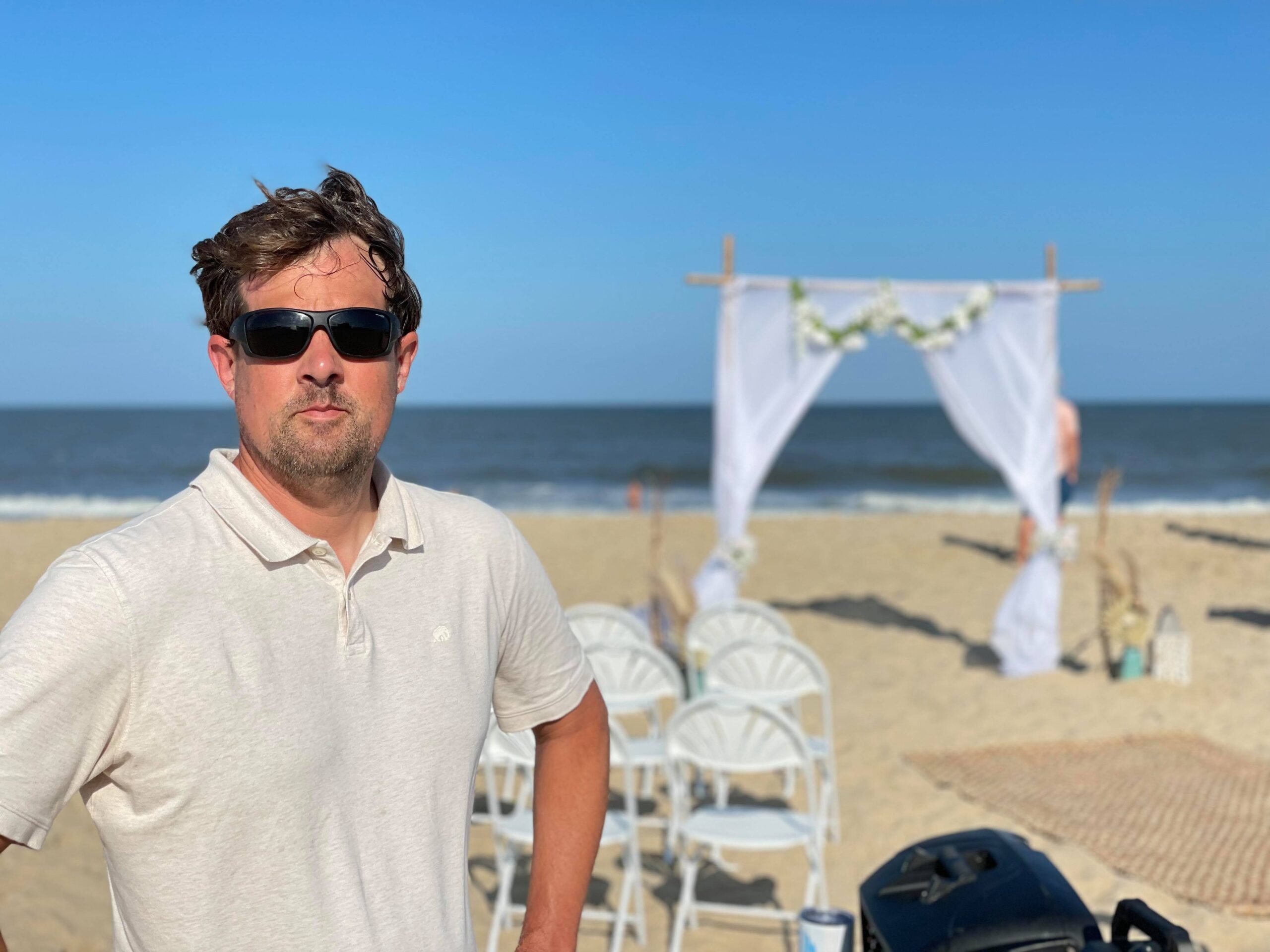 In 2008, Viktor Tsvetanov and Andrew Van Zee founded Sunny Beach Weddings as a way to provide engaged couples with the help and guidance they need to plan the beach wedding of their dreams. Having worked in the wedding industry for over 10 years and witnessing countless weddings gone awry, they set out to create a company that would guide couples through the planning process and provide them with a top-notch vendor team to help bring their wedding vision to life. Since 2003, Viktor has called Ocean City, Maryland his home. Having started out organizing large automotive conventions, Viktor is no stranger to planning large scale events. After getting his feet wet in the event planning industry, he decided to transition to wedding planning where he could help couples plan more personal and intimate gatherings. When he isn't hard at work planning your wedding, he loves spending quality time with his wife, Maya, and their two amazing little girls. Andrew resides in the neighboring town of Bethany Beach, Delaware where he lives with his wife, Kristie, and their two wonderful children. In 2004, Andrew and Kristie started a wedding photography business specializing in beach weddings. After a few years photographing weddings near and far, he and Viktor joined forces to start Sunny Beach Weddings.
"We had a perfect wedding day thanks to Sunny Beach Weddings! They took care of everything and made the experience stress-free. Their team is amazing, I highly recommend them!"
"I couldn't have asked for a more attentive planner. The pictures also turned out absolutely beautiful. Both photographers captured the memories that we can cherish forever. I can't say thank you enough to SBW!"
Ready to start planning your beach wedding?
We're now booking 2023 and 2024 beach weddings!
Most frequent questions and answers