contact us and book the tour of your dreams
Why plan our vow renewal on the beach?
As the years go by, the love and commitment between two people can grow stronger and deeper. There is no better way to celebrate this enduring bond than with a vow renewal ceremony on a beautiful beach.  Sunny Beach Weddings is dedicated to helping couples rededicate their vows.  Therefore, we provide couples like you, a time to reaffirm your love for each other in the most romantic setting imaginable.
Located in the charming beach towns of Ocean City, Maryland, and Bethany Beach, Delaware, our vast and peaceful beaches provide the perfect backdrop for your vow renewal ceremony. Imagine standing hand in hand with the love of your life as the sun sets or rises on the horizon, surrounded by the beauty of the beach and the love of your family and friends.  In addition, the tranquil setting of the beach allows you to relax and focus on the love that you share. Finally,  you will love the romantic and intimate atmosphere.
What makes the beach the best place for a recommitment ceremony?
The beach not only provides a beautiful setting for a vow renewal, but it also offers other benefits. For example, its laid-back and casual atmosphere can help create a more relaxed and stress-free environment. This is particularly important for couples who have been married for many years and may have experienced additional stresses from raising a family or building a career. A beach vow renewal allows these couples to take a step back and focus on each other without the distractions and pressures of daily life.
In addition to helping couples relax and reduce stress, renewing vows on the beach can also strengthen their bond and deepen their connection with each other. By reaffirming their love and commitment to each other, couples can remind themselves of the reasons they fell in love and reinforce the values important to their relationship. This is especially useful in a long-term marriage, where the demands of life can sometimes take priority over the relationship. A beach vow renewal allows couples to prioritize their relationship and rekindle the passion and connection that brought them together.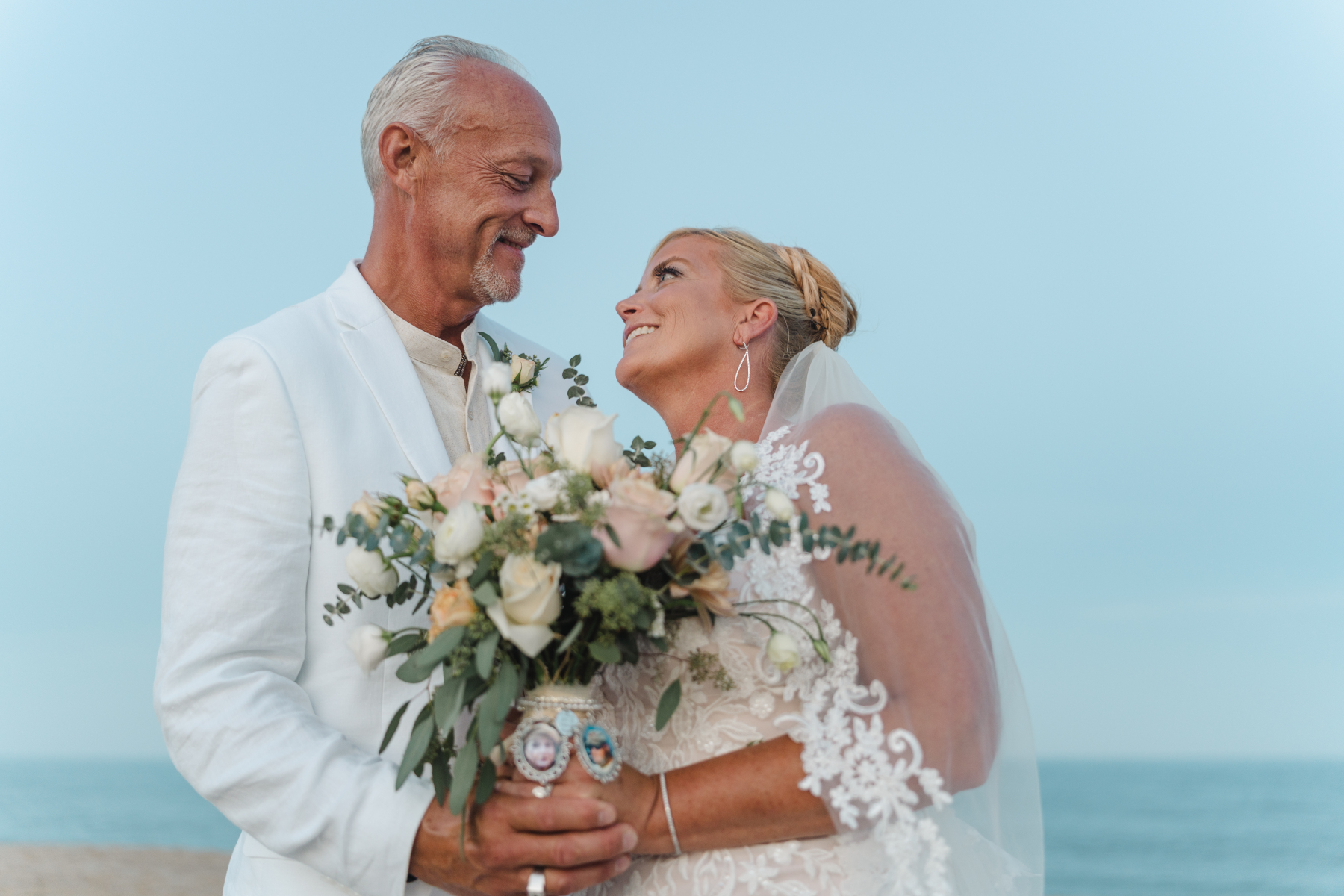 How do I start planning our vow renewal ceremony?
At Sunny Beach Weddings, we understand that every couple is unique.  This is why we offer customizable wedding packages that can be tailored to fit your needs. Our Classic ceremony package and Boho Chic ceremony package are perfect for vow renewals.  The packages can be customized to fit your specific preferences and desires. Whether you want a small, intimate ceremony with just the two of you or a larger celebration with a group of loved ones, we can help you plan the perfect beach vow renewal.
Our team is dedicated to helping you create a stress-free day that honors the story of your lives together. We offer a wide range of services. We help with everything from coordinating the details to decorations, and catering.
So why wait? Let Sunny Beach Weddings help you celebrate your enduring love and commitment to each other in the most romantic setting imaginable. Contact us today to start planning your dream beach vow renewal in Ocean City, Maryland, or Bethany Beach, Delaware.